Natural disasters such as storms and hurricanes cannot be prevented, but efforts can be made to reduce their aftermath. The right usage of technology can help to save lives of many people, and same is the effort of Google, to help prepare masses to face the disastrous situation, in order to save their lives and happiness. And for doing this, Google is making several up gradations in the search engine so that it can track the storm in a better way.
Google has joined hands with FEMA, ready.gov, and NOAA to guide people how to prepare for such situations in advance to stay safer. Google in collaboration with NOAA will also help in giving relevant information to a user if he searches for a particular tornado or storm, it will include description about its severity, time, place and safety instructions. Safety and information are the two major things required during and after the storm and Google is working to improve its crisis response or disaster management in both these domains. In its official blog, Google mentioned that "We want to be as prepared and as helpful as possible for the next one – no matter where it hits, or how big it is".
Speaking about one of the most tragic hurricanes of the planet, Katrina, Google mentioned that it had launched searchable databases to help people search for their loved ones and friends, after the disaster took place. But, this time, Google wants to alert all the people in advance with the help of information, warnings and techniques to minimize losses.
This time, if a user will search about a particular hurricane, he may get to see:
User's location in relation to the upcoming storm.
Information about its path, wind severity and arrival time.
Safety instructions customized to the location of user and time of arrival of storm.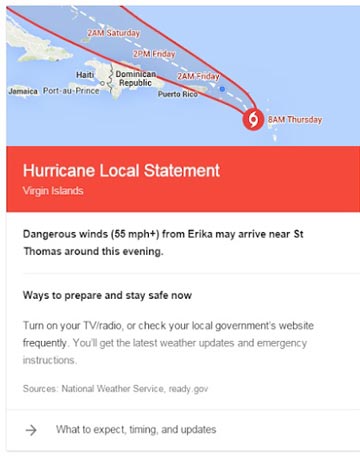 The company is ready to inform users about each and everything related to storm, from recommendations for making preparations that will be accessible by them some days before its arrival to urgent information such as, how to save yourself from injuries from fast flowing water and debris.
With the purpose of saving mankind from the disastrous force of nature, Google is preparing itself to do every bit. In its blog, the company also mentioned that "By providing useful, accurate, early-warning information, we want to do our part to help people prepare. More information won't stop natural disasters from occurring, but it can go a long way to keeping people safe, and in some cases, could even save lives." Let's hope that Google will get a great success in all its endeavors of saving lives. We will reach to you again with latest updates from Google.
Author Bio:
I am a blogger writes about web and technology trends in the blog. I also advise companies and executives to optimize their online personal and company brands with digital, content and social media.