Officially unveiled in September 2014 following a brief demonstration in Microsoft's annual Build conference, Windows 10 went through several hoops (including public beta testing) before it was given wide consumer release on July 29, 2015.
The OS was downloaded 14 million times in the first 24 hours after its launch, and according to an official report posted on the Windows blog, more than 200 million monthly active devices around the world are running Windows 10 as of January 2016.
Microsoft's goal is to have Windows 10 running on one billion devices within the next two to three years, and with Microsoft partnering with reputable PC manufacturers (such as HP and Lenovo) to produce computers that come pre-installed with Windows 10, this goal is certainly achievable. It also helps that online electronics stores such as Adorama retail both Windows 10 Pro and Home, as well as computers that come pre-installed with the OS.
Upgrading to Windows 10: Determining Eligibility
Image Source: Pixabay
If you're shopping for a new PC, then you can, of course, buy one that comes with Windows 10 pre-installed. On the other hand, what if you have an existing PC that's running one of Microsoft's older operating systems—such as Windows XP, Windows Vista, Windows 7, or Windows 8? Should you upgrade? Just as importantly, can you upgrade?
Microsoft is encouraging users to adopt Windows 10 by making upgrades to the OS free of charge to eligible users. Free upgrades for eligible users will cease on July 29, 2016. To qualify for the Windows 10 upgrade, users need to have a machine that runs either Windows 7 Service Pack 1 (SP1) or Windows 8.1 along with a valid license.
Those who do not possess a valid license will not get the free upgrade. Moreover, users that have machines running Windows 7 without the upgrade to SP1 or Windows 8 without the upgrade to 8.1 need to get these upgrades via Windows Update before they can upgrade to Windows 10.
The free upgrade is not extended to users of Windows XP and Windows Vista. Ordinarily, users cannot install Windows 10 on a machine running XP or Vista. However, with the Windows 10 Insider Preview ISO being offered directly by Microsoft, ISOs can be used to get a clean install and pave the way for an upgrade to Windows 10.
If you've determined that you're eligible for the upgrade to Windows 10, but you're still unsure if the upgrade is right for you, then check out the following pros and cons:
The Pros of Upgrading to Windows 10
Simple downgrading
If you change your mind, downgrading back to your previous version of Windows is easy. Microsoft has rolled out a relatively simple process that requires only a few clicks to get the system to return to the previous version of Windows. However, to revert successfully, you must not delete the "windows.old" folder where the previous version of the OS is stored.
To prevent data loss, you'll want a full backup of your data before you initiate either an upgrade or downgrade. While there have been reports of less than seamless downgrades, if you ensure a full backup of your data, you won't end up losing valuable information forever.
Marked improvement from Windows 8
Windows 8 was originally released in 2012 to mixed critical reception. Although Windows 8 was praised for its security enhancements, performance improvements, and improved support for touchscreen devices, its new user interface was widely criticized for being potentially confusing and difficult to learn, largely because it favored touchscreen over traditional mouse and keyboard inputs.
Windows 10 avoids Windows 8's user interface pitfalls by reverting to a Windows 7-style desktop interface. Practical improvements to Windows 10's Start Menu include a list of frequently used apps, shortcuts to PC settings, and a shortcut to the "All apps" function.
The Start Menu is also customizable for users to resize and rearrange the tabs. Windows 10 retains Windows 8's resizable live tiles, enabling users to perform numerous tasks such as checking unread mail, weather, and calendar appointments.
Universal apps and Continuum
Windows 10 comes with two new features that are designed to improve user experience: universal apps and Continuum. Universal apps run across multiple Microsoft product families; hence, if you purchase an app from Microsoft, it will be available on all your Windows devices—PCs, smartphones, tablets, Xbox One, and Windows Holographic, etc.
Continuum gives Microsoft users a seamless experience regardless of which device they're on. For example, Continuum defaults the user interface to desktop mode on the Surface Pro 3 if the keyboard is attached. Continuum then switches to tablet mode when the detachable keyboard is removed.
New and improved Cortana
Microsoft's intelligent personal assistant software, Cortana is now available on laptops and PCs via Windows 10 and can be found on Windows 10 Mobile. This means that Microsoft now allows users to control elements of their PCs using their voice. Android and iOS users won't be left out either, as Microsoft is releasing versions of Cortana for both platforms.
To launch Cortana, click on the "Search" section of the taskbar. Users can then make web queries via the new universal search facility that incorporates the Internet as well as the users' device. Cortana for Windows 10 can assist with other tasks such as schedule appointments in your calendar, dictate reminders and notes, control your media, and get map directions.
The Cons of Upgrading to Windows 10
Data harvesting
Some users have voiced their reservations about using Windows 10 because it data harvests personal information. Clicking through "Express Settings" during installation allows the OS to gather your contacts, calendar details, location data, and other personal information.
Fortunately, you can disable Windows 10's data harvesting features prior to installation or upgrading. On the installation screen, instead of pressing "Use Express Settings," click the "Customize Settings" button instead. Use this step to disable settings for personalization, targeted advertising, and location tracking.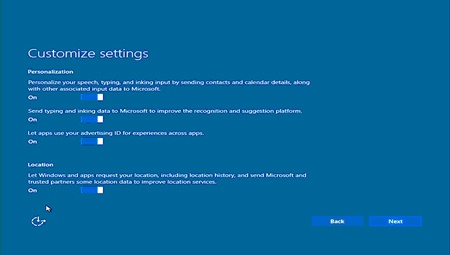 Image Source: Ars Technica
While these safeguards probably won't prevent all your data from being sent to Microsoft, it will certainly limit the amount of personal information being collected about you. On the plus side, a lot of this data is used to provide users with a more personalized OS, as well as tailor Cortana's search functionalities to their specific needs.
Compatibility issues with older software and hardware
While more recent software and hardware won't experience any issues during the upgrade, this won't always be the case with much older software and hardware. To be on the safe side, consult your software provider to ensure that the software will run properly on Windows 10. Peripherals such as printers and scanners may also require the downloading of new drivers to ensure that they work properly on the new platform.
While most of Windows 10's software glitches and bugs have been ironed out since its launch, compatibility issues still plague some older legacy devices. As noted earlier, the free upgrade doesn't extend to users of XP and Vista. In time, software support will end for these older operating systems, forcing many users to upgrade their hardware as well.
Maximizing Windows 10 Settings for Optimum Performance
While Windows 10 is supposed to operate more quickly and efficiently than Windows 7 and Windows 8.1, some of Windows 10's features and settings can negatively impact overall performance. Fortunately, tweaking the following features and settings can prevent the system from slowing down:
Turn off notifications to optimize performance and conserve power.
Windows 10 now has an app notifications center which updates you on your apps. On the downside, the app notifications center can quickly become crowded, which in turn inhibits performance and drains your computer's battery life.
To prevent this, limit notifications to only what's necessary. You can disable notifications for specific apps by taking these steps:
Click on the "Start" button (the Windows icon on the far left-side of the taskbar).
Click on "Settings" > "Systems" > "Notifications and Settings."
Use "Show App Notifications" to turn off all notifications.
Turn off Windows tips and dynamic color adaptation to boost speed.
Windows 10 has an app called "Show me tips" which gives users tips for various features. While it's handy, it also leads to high processor and RAM usage.
To switch off "Show me tips:"
Return to the "Notifications and Settings" page.
Switch off "Show me tips about Windows."
As for dynamic color adaptation, the new Windows 10 user interface tries to automatically adjust the color of the window frame and taskbar to suit the desktop wallpaper. Unfortunately, there's a bug that increases CPU usage and reduces the operating system's overall performance when it is enabled.
Here are the steps to prevent this:
Return to the "Start" button > "Settings."
Go to "Personalization" > "Colors."
Switch off "Automatically pick an accent color from my background."
These handy tips should boost the performance of your OS significantly and help you conserve battery life.