If you want to improve your productivity on social media, then Twitter is the tool that you cannot afford to miss out. It is one of the most important social media networks which allows you to share your ideas, your new brand details, and updates with the global users. And to manage your Twitter account, it is not necessary to spend all your time on it. There are dozens of tools available that helps to manage your Twitter account easily. They are also known as third party applications. Discover these "Top 5 Twitter Tools to Increase Your Productivity".
1)    ManageFilter
This is a highly useful tool for the smart Twitter users. It helps you to manage your twitter followers and posts. It is featured with PowerPost, which allows you to see the best time to post your tweets to get the best user engagements based on your account. The Follow and Unfollow features help you to quickly copy the followers list of other users and unfollow multiple peoples who are not following you back in seconds. It has a search bar which allows you to find relevant people by keywords, followers, location, age and much more. You can also connect your Google+ account with ManageFilter for posting straight from your Google account.
2)    Commun.it
Commun.it is a relationship management tool for Twitter users. You may have often seen a welcoming message from a profile you follow and also seen the list of the top 3 engaged followers, all these are done by Commun.it. It saves your time on social media by driving traffic, increasing followers by fan engagement, and growing likes and shares in an easy way. It makes a priority list of social tasks like managing your twitter relationships, focus on your customers and influencers, giving free Twitter analytics, manage your multiple profiles and scheduling posts, which content to tweet and whom to follow/unfollow. It identifies and categorizes your valuable members in three groups; supporters, influencers, and engaged members. Commun.it helps to manage all of the supporters easily and making relevant tweets to the specific groups to get the best user engagements.
3)    Nuzzel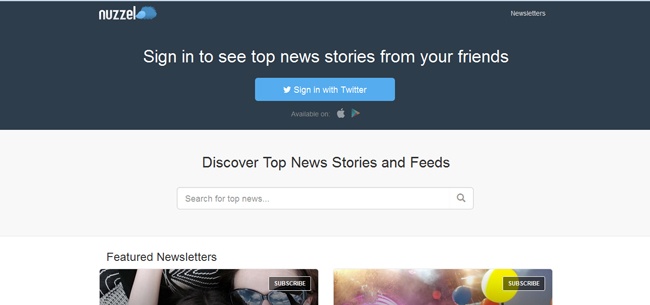 Nuzzel is the noise reduction tool for the Twitter users who want to get the tweets those they don't want to miss. This tool will help the Twitter users to find out the specific tweets which are shared by their group of twitter friends. It will allow them to see only some specific tweets or news on their timeline by cutting down the unwanted noise. You can also connect this tool with other services like Instapaper, Pocket, and buffer app.
4)    Nurph
This is one of my personal favorite twitter tools. If two users are online on twitter and if they are sending a message privately, then this might sound annoying. Nurph allows you to make a conversation in a private chat room. You can also invite interested people to join your conversation by sending them links. So making a video chat with the people you want to make a conversation with makes it much easier to communicate.
5)    Tweepi
Tweepi is an another great tool to increase your productivity. You can see the list of all the people who are not following you back, who are inactive and clutter your timeline stream with so many tweets. It helps you to find a relevant user by the interested topic, helps to engage the targeted followers, and also helps to get the notifications via mobile and email to grow your brand. You can unfollow multiple profiles with just a few clicks.
All of the above tools will help you to increase your Twitter followers, increase the engagement with other Twitter users, and also help you to become a credible user to get more and more retweets. Though the journey of becoming a credible Twitter user is not easy as it takes time and lot of efforts from your end too, using these Top 5 Twitter Tools will surely help you increase your productivity.
Author Bio:
Mandip is a graduate in Information and Technology. He is a passionate blogger, SEO Specialist, and a Software Developer. He loves to write on technology, SEO, micro job websites like Fiverr and Internet Tips and Tricks.He blog at Best on internet.