The Samsung Galaxy S3 mini (I8190) was released on November of 2012 with mini features as of Galaxy S3 but being a mini doesn't mean it cannot compete big guns (Nexus 4 or One x). The Galaxy S3 mini comes with the Android (4.1) Jellybean running on 1GHZ Quad Processor with 1GB RAM.
What Samsung Galaxy S3 includes and its price ?
Take the beautiful beast in the hand and you will notice that its 1kg phone! One kg is not that heavy but when in your packet while running, it keeps reminding you that you have a 230Euro phone in your pocket!
Overall Specifications:
The Mini has been minimized from 4.8 inch screen to 4.0 inch screen and the HD screen has been eliminated but the Super AMOLED screen will help you forget it and go on with the Videos. The Two versions of the S3 mini are either 8 or 16GB Space with addition of Micro Card of up-to 32GB. The cameras are packed are of 5Megapixel in back and front features the VGA camera designed for Video calling. The 5 Megapixel camera captures good but if you are a S3 user you will find it not quite good as S3 is packed with 8 Megapixel, S3 mini's camera has Auto and touch focus, with face detection and GeoTagging, video quality is 720p at 30 frames per second.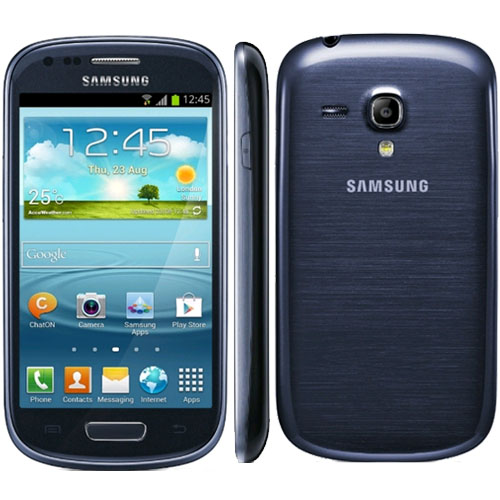 The Network offering by Mini is Mini Sim support and it doesn't has 4G support, the Bluetooth is of 4.0version (50 meter range) and provides the Wireless Network Support of Dual Band, Wifi Direct and Wifi Hotspot. The internet speed is up-to 14.4Mbps on HSDPA. The Browsing on S3 mini is supported by HTML5. The 1GHZ Quad will keep you opening apps and it won't create a problem and make you amazed by the ultra processing speed and will help you use advance applications available on Google play as well as Samsung Store. It can be configured on PC with Samsung KIES. The GPS service can be downloaded as you like. The battery of 1500mAh provides better result as compared to S3's 2100mAh battery. The upgraded 4.1 jelly bean provides the better look a feel as the new configuration of display screen; notifications, keyboard, Application Availability and camera will make you enjoy your phone better than ever.
Some Shortcomings:
The s3 mini has 4.o inches screen whereas the 4.8 is offered in Standard, the Camera is 8MP in S3 but S3 mini comes with limited 5MP camera, the Storage is limited as 16GB nowadays is not that Helpful when the Standard picture size is 5mb, Standard song size is 12mb and video takes the 23mb space and not to mention those applications with file size of more than 200mbs, 16GB is a kid's phone space.
Difference in S3 and S3 Mini – Which to select ?
The Galaxy S3 is bigger and with 1.4 Quad core processor with 8 megapixel and 1.9 megapixel camera with 4g support but that 429 Euros or extra 149Euros as compared to S3 mini and just for a bigger camera? That is the point where S3 mini becomes a better choice. Apart from mini's better battery The Mini has better View in hand, it has a better feel and better price too!