Are you looking to sell or re-install your iPhone? If yes then make sure that you erase all your private data from the phone. Every bit of data must be deleted and your iPhone should look like a new phone. It might take a few steps to do so and consume some time. To handle the process efficiently, you can make use of some software.
But how to find a reliable software that can wipe out all the data from your iPhone including photos, videos, documents, and other files that might deteriorate your privacy if falls in someone's hands. It is necessary to choose trustworthy software. Dr.Fone is an efficient software tool that can help you wipe out all the data from iPhone and take it to condition as it used to be when you purchased it. Let us learn more about this software.
About Dr.Fone
Dr.Fone is the first software in the world that provides iOS data recovery and Android data recovery as well. Not only you can recover, it even acts as an iOS data eraser for you. This means that you can easily erase the data from your iPad, iPhone or any other device working on iOS. The software is dedicated to 3.5 million users worldwide and provides the best services to its users. It is available for both Windows and Mac platform.
Why erase your iPhone Data using Dr.Fone Erase (iOS) Software?
You must choose the Dr.Fone Erase (iOS) software to erase all the important data from your iPhone or any other iOS device. There are a number of advantages of doing so and some of them have been listed alongside:
The user needs to carry out a simple click through process for wiping the data.
You are given a choice to select which data to erase.
The data you select for the deletion is deleted permanently.
No one can ever recover or view your private data after being deleted by this software.
How to Erase Data on iPhone completely using Dr.Fone Erase (iOS) Software?
Download the software on your computer/Laptop (Windows/Mac).
Launch the software on your iOS or Windows device.
Connect your iPhone to the system using the USB cable.
After Dr.Fone recognizes your iPhone, it will be displaying two options – 'Erase Full Data' and 'Erase Private Data'.
Select 'Erase Full Data' as you want complete data to be wiped out from the iPhone and then follow a few on screen instructions.
Sit back for few seconds to receive the notification that all data has been wiped out from your iPhone.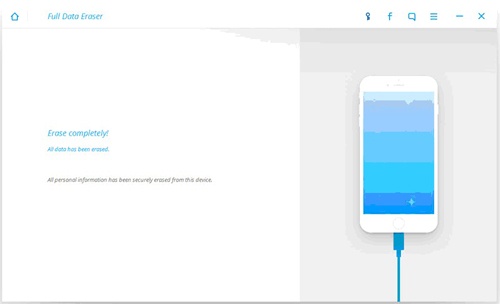 Pricing
Dr.Fone Erase (iOS) Software is available for Windows and Mac platforms. It is priced different for both the platforms and is cheaper for the Windows platform.
For Windows
For Mac
The Bottom Line
Dr.Fone Erase (iOS) is a superb tool for wiping out data from iPhone and other iOS devices. You can try it for free and can even choose to go with the premium version to access more features. It is reliable software and is used by over 3.5 million people globally. You can go with it as well.