If you are a student, educator, writer, journalist, or a professional of any other kind, chances are that at least once you've received a Word file locked in PDF form that you needed to edit, but didn't know how.
Ever since its inception in the early 90s, the PDF (Portable Document Format) has been highly acclaimed for its ability to be viewed on all operating systems (Macintosh, Windows, Linux) without any layout troubles, regardless of any software and hardware differences between computers. So clearly the PDF file offers a great deal when you want to send a file to someone and you want to make sure that they will be able it see it perfectly. This is why all Microsoft Office programs and many others, like Autocad, HTML, Image formats, etc. have an option to save the projects in PDF form. Sharing files has never been simpler than with PDFs.
But, as all things are balanced in a way, the PDF has to have its flaws to "battle" the advantages we mentioned earlier. The main issue is that all PDFs are by nature read-only files, which is ideal for sending and sharing, but catastrophic for editing. A user that wants to make a change to the file cannot do it directly in PDF, but he or she needs to have access to specialized PDF-conversion programs, and they come pretty expensive, especially for people who don't have to use them frequently.
So, what can be done? A great and simple way to overcome this problem is to use PDF Converter's PDF to Word Free Online Tool. This is a totally free and very dependable tool that will definitely meet all your conversion expectations and needs. Let us cover all the characteristics of the tool and how to use it!
First of all, there is no limit to the size of the file you are converting. Also, the tool uses the advanced OCR (Optical Character Recognition) technology, which allows us to convert scanned PDFs back to Word, a feature that very few free online tools can boast about.
Another great thing is that everything is done completely online, so there is no need to download anything, except the converted file once you are finished, of course. Besides that, there is no complicated log-in, and the only information a user is required to give is an email address, and the security of sensitive user information is guaranteed (all private information is kept for 24 hours on PDF Converter's servers, just so you don't have to download the file right away).
Now that we covered the basic traits of the tool, let's show you how it is used.
Everything is done in three steps. Firstly, you select the PDF file you wish to convert to Word.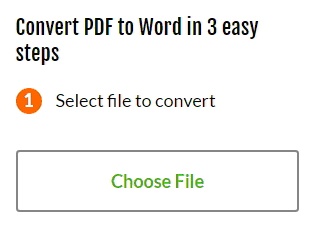 The second step is entering your email address where you will receive the link to the download page when the conversion is complete.
And the third and final step is choosing the "START" button; soon the link where you can get your converted Word file will be waiting for you on your email.
This is pretty much everything we had for you about Free PDF to Word Conversion Online, so if you ever find yourself in a sticky situation, just stop worrying and give this awesome tool a try.