For businesses that need more than just another free and public communication tools, a chat app is a helping hand. The market is flooded with many business communication tools that with varying levels of technical sophistication and chat features. Making a final choice from all of them is a difficult task.
To make things easier, we have made this Contus Fly vs Slack vs Hipchat/Stride comparison chart that popular effective communication tools provide. We are pitting Contus Fly vs Slack vs Stride/Hipchat vs Pubnub vs Flock. Towards the end of the comparison of Slack and Stride/Hipchat and Contus Fly, you will be able to make a choice that best suits to communication tools needs of your business.
A brief comparison of Slack vs Stride/Hipchat vs Contus Fly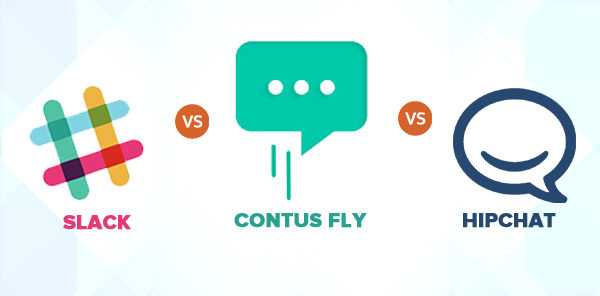 Chat Features
Chat makes up the backbone of any instant messaging app. For enterprises, the range of chat features required extend many times the average features offered by public and free communication tools for business. The need of the hour is real-time chat messaging, drag and drop files into the chat box, chat status updates, turn on, pin or mute chat notifications, in-line chat replies and so on.
Here is what we found on comparing the chat functionalities of Contus Fly vs Slack vs Hipchat/Stride:
Chat Features
Contus Fly
Slack
Hipchat/Stride

Online/Offline Status Notification

✓

✓

✓

Fully Customizable

✓

✗

 

✗

Real-time Monitoring

✓

✗

✓

Personalized Profiles

✓

✓

✓

Email Notifications

✓

✓

✗
Collaboration
Effective online communication tools should allow top-to-bottom collaboration and communication amidst users. It should enable flat-hierarchy at the same time provide facilities for closed and private chats where confidential matters relating to work can be discussed without attracting publicity. Further, users must also be able to share files of varying formats, location, multimedia and much more seamlessly without any space or format constraints.
Collaboration features that we found on our comparison of Contus Fly vs Slack vs Hipchat/Stride are tabled as below:
Collaboration
Contus Fly
Slack
Hipchat/Stride

Voice and Video Calls

✓

✓

✓

Tagging

✓

✗

 

✓

File/Image Transfer

✓

✓

✓

Deep, Contextual Search

✓

✓

✓

Animated GIFs

✓

✓

✓
Security
Privacy, data confidentiality, and interception are some of the security issues that concern enterprises from using private communication tools for enterprise use. Also, with work philosophies like BYOD, Work from home, remote employees, etc. becoming popular, it is increasingly important for enterprise chat solutions to have impregnable chat security features like AES encryption, HMAC authentication, auto-destructive messages, SSL or TLS encryption and so on.
Some of the security features that our Slack vs Hipchat/Stride comparison found is as below:
Security
Contus Fly
Slack
Hipchat/Stride

HMAC Authentication

 

✓

 

✓

 

✓

SSL Security

 

✓

 

✗

 

✓

Data Encryption

 

✓

✗

 

✓
Platform Compatibility
10 users within an office building or 10,000 users spread across 5 continents, an enterprise chat solution must be scalable on a large scale, almost instantly. That said, cloud-readiness is something that is inevitable. Also, the completed business communication tools should be compatible with all popular mobile platforms that employees use regularly.
Platforms
Contus Fly
Slack
Hipchat/Stride

Android

 

✓

✓

✓

iOS

✓

✓

✓

Web

✓

 

✓

✓
Integration
Enterprise communication tools must come with integrations that will maximize productivity and reduce dependency on other devices. These integrations could be in the form of SDK or API that will integrate additional functionalities like tasks, calendar, ERP data fetching, event planning, conducting a poll, etc. through the chat interface and effective communication tools.
Here is how Contus Fly vs Slack vs Hipchat/Stride has to offer in form of integration:
Integration
Contus Fly
Slack
Hipchat/Stride

Open API to build your own integrations

✓

✗

✓

SDK

✓

✓

✗

SaaS

 

✗

✓

✓

Own Cloud

✓

✗

✗

Own Server

✓

✗

✗

In-app messaging

✓

✗

✗
Pricing
Software solutions and SaaS products are priced differently. For SaaS products, the pricing terms are usually based on a number of users or time period. Solutions on the other hands are sold for a one-time cost. There is no further cost attached unless when additional customizations are required in the future. Further, solutions do not have a cap on the number of users for pricing purposes.
Here is how Contus Fly vs Slack vs Hipchat/Stride pricing far on the same scale:
Pricing
Contus Fly
Slack
Hipchat/Stride

Plans (Per Month)

 

✗

$6.67 / Per User

$4 / Per User

Appx. 200 Users (Per Year)

One-time cost for unlimited users

$16,000

$9,600
Hipchat/Stride costs $4 per user per month. The total cost will multiply with the number of users you include to your Hipchat/Stride chat system. Slack comes with a price tag of $6.67 per user per month. Again, you have to incur an annual fee to keep the system up and running.
Contus Fly, on the other hand, comes with a one-time cost and can be scaled to any number of users without any ceiling limit.
Well, now you know how the best communication tools fare against each other. As you can see, not all of them share the same traits. There are unique features which sets them apart and makes them an ideal fit for varying types of enterprises.
These effective online communication tools will usher your enterprise to the modern age where chat is the new email.