The experts say that the way in which we wake up in the morning can shape the mood for the rest of the day. And the word 'mood' pretty much sums it up! You can feel as if you were cheated and someone stole a few hours of sleep and dreams from right under your nose. The whole day seems like an upward journey and you just don't have enough gas to reach the summit. Most alarm clocks are fairly crude devices that could not care less about your sleeping pattern and even less about what kind of day you will have to endure. This article takes a look at 2 very different alarm devices that will surely be an improvement on that monster lurking on your bedside table!
Clocky
This alarm clock is a very cleverly designed piece of evil gadgetry indeed! It is aimed at those folk who love to hit the snooze button and then oversleep as a result. They spend the whole day trying to catch up and constantly blame their poor little alarm clock. Well Clocky is in a different league to those rather remedial devices and he will certainly sound the death knell to those overindulgent snooze sessions out there! The device has a pair of sturdy wheels at either end and you just know that this thing is mischief personified! As soon as your alarm goes off, Clocky is on the case and literally springs into action. He physically jumps off your bedside table and whizzes around your floor whilst blasting out whatever tunes you like! By the time you have caught this naughty little fellow, you will be ready to hit the shower and face a new day! He will withstand drops of about 3 feet but if you have had enough and decide to see if Clocky would like a closer look at your bedroom window, it would mean going back to the snooze button devices once more. Clocky is tough but he can't fly!
Sleep Cycle Alarm Clock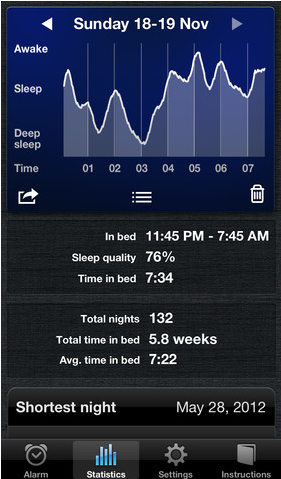 Our second alarm-fest offering is a slightly more sympathetic app from those clever guys over at the Apple store. This application will run on your iPhone, iPod touch and iPad, and it requires iOS 4.3 or later. Sleep Cycle syncs up with your iOS device's accelerometer and tracks your sleeping pattern. All of your nigh time movements and tossing and turning are recorded into the application. You can analyse the pattern at your leisure and dial in the time you wish to be woken for work or college the next day. This very clever piece of software will calculate the best time to start stirring you and you should wake up feeling rested and ready for action. The optimum time for waking up is during your lightest sleep cycle, the Apple device will use this bespoke data and use very subtle sound files to wish you a very Good Morning. We thought this app should be a part of every bad sleeper's life and hopefully you'll soon feel the benefits as well!
Alarm Clocks With Attitude!
Both of these products will soon have your respect for two very different reasons, so choose wisely as they will not stand for any nonsense from lazy risers!