12 Brilliant Things to Make with 3D Printers
The world of 3D printing is limited only by your imagination as these amazing items attest. From pet wheelchairs to LED lights bulbs the list of possibilities really is mind boggling.
What stands out from all these designs is the time and effort that people go through for what is, at the end of the day, a hobby. The community in the 3D printing world is fantastic, inclusive and very helpful.
So scroll through and let your imagination run wild!
Money clip
http://www.thingiverse.com/thing:1573732
Your first forays into the world of 3D printing are likely to be relatively simple. So why not take on this project as one of your first? According to the designer this project takes around an hour to print and is an easy start in your printing journey.
AA to C Battery Adaptor
https://www.thingiverse.com/thing:566112
Now this is an ingenious idea. The only difference between C cell batteries and AA is size. So this crafty person came up with a sleeve that fits over your cheaper AA battery to convert it into a much larger (and more expensive) C cell. And it looks pretty good to boot!
Egg Holder
http://www.thingiverse.com/thing:1532267
Now egg holders are not generally the most elaborate pieces of kitchen equipment. This design takes the usual egg holder principle and then turns your egg into some kind of Viking leader. Your egg can sit upon it's throne until you decide lop its head off and dunk a soldier in its brain.
iPhone 6, 6s and 6 plus Amp Dock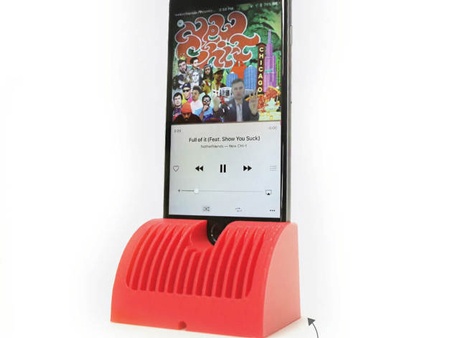 https://www.thingiverse.com/thing:1370457
Over the years phone speakers have got much better. However, they still aren't excellent. Handily a little ingenuity and a 3D printer can create a pretty great stand/amplification system to make your favorite songs properly audible.
Inverted Bottle Stand
http://www.thingiverse.com/thing:1568723
Solving another of life's many tiny frustrations comes the inverted bottle stand. We have all been there, desperately jiggling a bottle trying to get the last drop out. Well jiggle no more – as this neat looking design, which can be personalized for your particular bottle top size, keeps your bottle upside down to drain every last little bit out.
Pot handle
http://www.thingiverse.com/thing:1564637
Also in the First World Problems bracket is this difficulty, but we have all been there. Somehow the handle on your favorite saucepan lid has managed to self-destruct and left you in a predicament. Handily a 3D printer has the answer. 
Collapsible Rubbish Bag Holder
http://www.thingiverse.com/thing:1523876
Staying in the kitchen we have this great idea for keeping mess to a minimum. Designed from scratch this contraption holds your plastic bags while you are chopping allowing for hands-free ridding of those annoying peelings while cooking.
Darth Vader Towing Cap
http://www.thingiverse.com/thing:1571741
Now towing caps may not be the sexiest of things but if you want yours to stand out and you happen to like Star Wars then you are in luck. Darth Vader can have your back whenever you head out for a drive with this simple design.
Cat Maze
http://www.thingiverse.com/thing:1517074
From the Dark Side to the feline side now – cats are pretty inquisitive and they love a treat. Why not marry the two with this quirky design that gives your pet a mental workout in order to receive a treat.
Captain America's Shield
http://www.thingiverse.com/thing:1569628
With the release of Captain America: Civil War you may have been inspired to release your inner Cap' and this design is the perfect start. Fully colored it's not clear if this one comes with the physics defying powers of the original.
Pet wheelchairs
http://www.thingiverse.com/thing:1095924
If you are feeling a little emotional you might want to skip this one. Some pets aren't so lucky in life and need a little help getting around. To help them this designer created this brilliant design for a pet wheelchair – which is scalable to suit the size of pet that needs a little wheely help.
Raspberry Pi Gameboy
http://www.thingiverse.com/thing:1277483
Now this is pretty expert level of 3D printing and also requires some programming to go along with it. However, the results are so good that we couldn't help ourselves.
Author Bio:
This guest post was written by Andrew Rushbury, e-commerce manager at Internet Ink, a leading UK printer cartridge suppliers, writes about all things printing and technology.