U&Me Messenger is a mobile chat app that allows users to message and stay connected with their friends across mobile platforms. It is a free to download application that is available on Google Play, iPhone App Store, BlackBerry and Windows World.
The similar dupe for U&Me Messenger in the mobile application market is a mobile instant messaging app called 'WhatsApp'. But, U&Me has additional and advanced features that allow users to find places, theaters, ATMs and many more around them using "Around Me". Here is a list of some of the key features of U&Me:
1. Group Chat— Groups can be created simply by selecting the 'plus' button and choosing the option 'Create New Group'. You can add up to 500 group members on U&Me. Users can share files, images, videos and stickers on group chat.
2. My Wall— Do you have any exciting news to share with your friends? Or you want to share some exciting pictures of your weekend with your buddies? My Wall option of U&Me makes it possible to share images, status messages, audio clips and even video bites of your favourite moments with your friends. You can also customize the visibility of your posts on My Wall.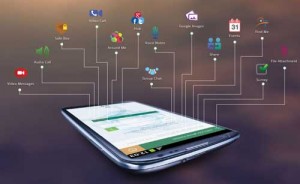 3. Voice Chat— Why should you always do text chatting? Send instant voice messages to your friends either on one-to-one chat or group chat on U&Me Messenger. This feature turns your mobile phone into a walkie-talkie. All you need to do is simply press the walkie-talkie button, hold, talk and send.
4. Emoticons— Who doesn't love sharing emotions or stickers. Along with a great collection of emoji's, U&Me also has an exclusive collection of stickers including Love Express, Nutty Kitty, Snowbee Holiday, Jumping Bumble Bee and many more.
5. Around Me— Do you want to explore the world around you, visit the famous places or trying to find the nearest movie theatres? Well, U&Me has that option too. With Around Me option, you can find literally anything in near your place, starting from ATMs, pharmacies, movies, restaurants, banks to hospitals.
6. Social Hub— You can integrate all your social networking accounts such as Google Plus, Facebook, LinkedIn and soon to U&Me. Doing so, you can post an update on any of your social networking accounts directly from the application.
7. Broadcast Messages— How it would if you can announce an important news to all your friends at one go. Pretty good right? U&Me Messenger has an option called Broadcast messages that allow users to send messages to a maximum of 500 members at a time.
8. File Sharing— It is one of the interesting features of U&Me. Using this option user can send images of any format (.pdf, .docx, .jpeg, .ppx, .mp3 and soon) to their friends to a maximum of 100 MB at a time.
9. Connected Accounts— The cloud storage accounts such as One Drive, Drop Box, and Google Drive can be linked with the U&Me app. So user can share files from any of their cloud accounts with friends.
10. Events— Planning for a weekend gala or late night party? U&Me's Events feature helps you to plan any party within just a few minutes. All you have to do is, just create an event, enter details of the event, invite the members to join the event and chill.
So, it's the time to try these features of U&Me. Hope this article is helpful to you, please share your comments and suggestions below.