Travelling abroad involves currency exchanges, the understanding of a different language, and knowledge of another country's culture, customs, and legal regulations. For the most part, doing some homework on these subjects will get you through just fine, but it certainly helps to have some quick-view information on hand in case you find yourself in a bind. Your iPhone is a handy gadget, one that should definitely be taken along with you.
Some of the more recently developed travel apps can be of great assistance when information is needed on the fly. Here are some of the most popular iPhone apps to help you during your stay in a foreign country.
1) Google Translate 
Google Translate is a continuously updating site that offers very accurate language translation services including audio assistance. No matter how much you have practised a language before your trip, you're going to find yourself in need of some pronunciation and spelling help. Google Translate has a word box where you can simply type in a word, phrase, or entire sentence in English and see an immediate translation into the language of your choice. This app also has a listen feature where you can hear a realistic voice speak the word or phrase in the native language. The app is free for iPhone users.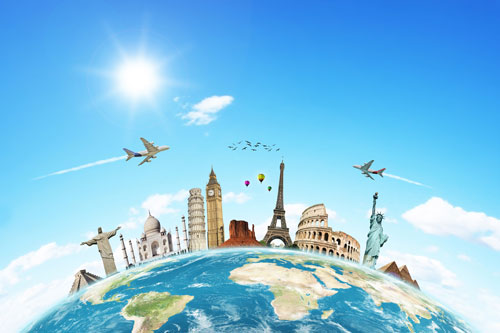 2) CityMaps2Go 
CityMaps2Go offers more than six million Google-style maps of cities and towns covering virtually the entire planet. You can pinpoint your exact location and see where nearby points of interest lie, find out the quickest way to a hotel, subway station, or restaurant, and even zoom in on any location shown on the screen. The cost is only $3 for iPhone users.
3) Trip It 
This is one of the most useful all-in-one travel planning aids available. Trip It has a well-designed window box that allows you to see all of your flight, hotel, and transfer itineraries at a single glance. This app can be synched with any mobile trip planner software, allowing you to view real-time flight arrival and departure information including delays and gate changes. The flight info box contains seat assignments, departure gate, and even local weather. If you wish, you can use the app to post information on your business media site as well as on Facebook and Twitter. It's a totally free app for iPhone users.
4) Travel List 
Designed especially for iPhone users, Travel List helps you get ready for your overseas adventure from the start. The main screen shows your packing list, when you will need certain items, and a calendar of events. Programming the information is easy, and once the items are added, you can adjust your schedule any way you want. With this convenient app, you will never need to remind yourself when it's time to contact the hotel laundry service, nor will you ever forget to charge your camera batteries. The app costs only $1.99 for iPhone users.
5) Mint 
One of the most stressful parts of an overseas trip is the management of your finances. Most travelers want the convenience of seeing their exact bank account or credit card balance at all times. Getting cash from an ATM in a foreign country is easy, but the exchange rate can change at any time. With the Mint app, this worry about bank balances is taken care of. You can see exactly how the exchange rate has affected your bank balance each time you make a withdrawal. There is an innovative travel and budget planner included that you can program before you leave home. Best of all, the service is read-only, meaning that no funds can be transferred using the app itself. This makes it very safe to use because if your phone is stolen, the thief has no access to your funds. The app is free for iPhone users.
6) Google Maps 
Easily downloaded onto your iPhone, this free app is one of the most accurate and oft-updated map guides in the world. With just a few clicks and zooms, you can see the street view wherever you are in the world, and the map shows nearby restaurants, hotels, ATM locations, and more. This is an invaluable tool when you are traveling abroad and are concerned about getting confused as to your exact location in an unfamiliar metropolitan area. Turn-by-turn GPS navigation is included. It's a free app for iPhone users.
7) Food spotting 
If you want to find the best restaurants serving local favorites, or if you simply need some comfort food that you're used to at home, use the Food spotting app. This is a very handy tool for locating a particular style of restaurant in most of the world's major cities. You can select a city or country, zoom in on a certain restaurant, and view actual photos of the menu items. The information contains restaurant addresses, navigation to the restaurant of choice, and reviews given by other travelers. The app is free for all iPhone users.