Project management is the backbone of every successful business. Every business owner wants to manage their resources efficiently. There are estimated more than 70 million Apple iOS users in United States considering iPhone and iPad only. It has become a necessity of every businessman to manage all their tasks from their mobile devices to achieve goals.
You can use the following project management applications on your Apple iOS devices to better organize, manage and plan resources.
Project Planner HD is a perfect project management app for you if you are a user of open source Gantt based Project management tool or need to use simple Gantt chart on your iPad. This application allows you to import and export project management files. You can easily manage the tasks and export them to PDFs. This application is designed to work on iPad and costs you $5.99.
xPlan is a famous slick looking project management application for iOS. It allows you to create, manage, and track all your projects. This application comes with Gantt charts and costs you $29.99. xPlan is perfect for project managers who are tired training people and looking for simple tool to manage all the tasks.
SG Project Go addresses real world project management needs for managers. Starting at $9.99, this application allows you to create multiple projects easily, create tasks with start date and duration, and manage cost for each project and backup data using dropbox.
This application provides beautiful interface to manage tasks effortlessly. Pivotal Tracker allows you to create and prioritize stories, post comments and create new tasks for your team. This free application allows you to communicate with your team effectively.
It is a free and very useful application that allows you to create, import and manage project plans. You can choose 4 type of task lines, interactive Gantt charts, build team and assign resources. Project Planning Pro was nominated for 2013 Silicon Valley Business App Awards. Project Planning Pro is one of the top free project management application available for iOS.
Liquid Planner is a free application for iOS that allows Project Scheduling & Organization, Team Planning & Coordination, Project Analytics & Reporting and Time Tracking & Approval. It is a perfect application for managers who are looking for all in one solution to resource and project management.
Teambox – Online Collaboration Tool
Teambox is a simple and easy to use task management and project collaboration tool. You can sync data on cloud to access it anywhere. Important features include tasks management, email integration, file sharing and tracking milestones.
Nozbe is a free application that allows professionals to organize time and projects efficiently. Application is inspired by GTD methodology (Getting Things Done by David Allen). Some of the features include time management, prioritize actions according to importance, navigate through tasks and schedule tasks.
iScope – Project Management 4 Humans
iScope is a handy project management application that helps you manage your resources and tasks. It is very similar to Gantt charts, but does not look or feel like Gantt charts. It offers a beautiful interactive experience for users to browse different projects. You can easily create, manage and backup projects using dropbox. It has built-in PDF reader to read documents. Project dashboard merge all the projects for easy access and useful statistics. The full version of the application is priced at $9.99.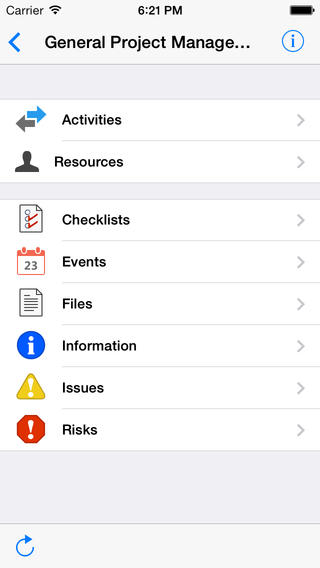 Merlin is a companion app for Project Management Software Merlin 2.7 on Mac OS. Now you can work with Merlin on your iPhone accessing all the projects stored on your Mac OS. It provides online access to all the documents stored on your computer via WLAN, EDGE, and UMTS. However, this application does not work alone you require Merlin 2.7 for OS X.
Fantastical 2 – Calendar and Reminders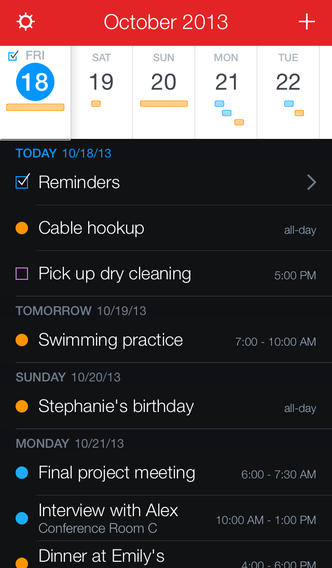 It is an award winning calendar application for iOS. This application allows you to add reminders easily with multiple options. The look and feel makes it the friendliest calendar app to organize your schedules. You can easily manage your meetings and business schedules with this application.
These are some of the top project management applications that you can use to manage your business projects.