Blogging is one of the most effective ways to attract traffic to your website. Writing a blog not just help in driving new visitors, but also keep your existing customers engaged with your site.
So now that you are convinced at creating a blog, WordPress is the most sought-after blogging software platform worth a try. After all, it was primarily built as a blogging platform and provides all the essential resources to help you get started with your blog in no time.But creating a WordPress website or blog and publishing a few posts as part of your blog won't be suffice to keep encouraging users to visit your site. You will need to consider ways that could help in your blog's growth to increase the amount of traffic your site is receiving. Thankfully, there are tools that can help your WordPress blog to grow.
Here in this post, I'll make you know about five useful tools that can help in the growth of your WP blog.
Understand Users' Needs to Boost Traffic Using Google Analytics Tool
Getting to know what your readers' want is the key to success for your WordPress blog. Needless to say, people will love to visit your blog if it includes posts or articles that interest your target users.

With the help of Google Analytic by Yoast plugin, you can get to understand your users better regarding which links they click when visiting your site, and so on. Using such insightful reports about your users will guide you in making your blog fit to your users' needs.
Manage Your Blog Workflow Using the Edit Flow Plugin
As you may know, WordPress provides the ability to run a multi-author website. However, managing such a site can give you a hard time in case you don't know about the users who are working on it. But, having a workflow management system can help make the task of managing multi-author blogs a smooth and streamline process. This can be achieved with the help of Edit Flow WordPress plugin.
This plugin serves as a great editorial workflow management system, allowing WordPress site owners to add custom statuses, view editorial calendar, etc. – that are important for managing a blog successfully.
Increase Your Blog Exposure With Floating Social Bar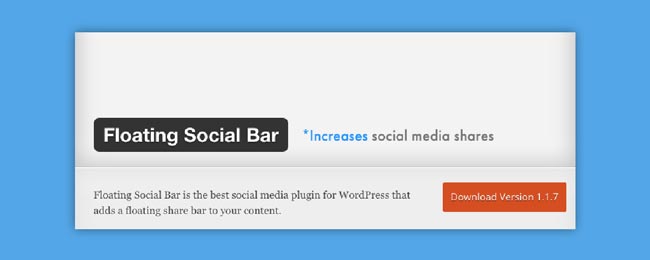 The best way to ensure your blog's growth requires taking steps that make it easy for readers to share your blog posts. To accomplish such a need, you'll need a tool that can help increase the exposure of your WordPress blogs, ideally across social media channels. This is where the Floating Social Bar plugin comes in handy.
This plugin acts as a sharing plugin that once installed helps add a floating sharebar on the left side of your posts – that glides along as you read your blog posts. It makes your social media buttons visible only when needed.
Improve the Look and Feel of Your Blog With Canva
It's a well-known fact that eye-catching visuals can help grab your target audience attention easily. And so, if you want your blog to be easily noticed by your audience, you'll have to focus more on improving its visual appeal. Thanks to the tool like Canva, you can create better visuals to your blog.
It can be used for creating beautiful graphics for your WordPress blog via its simple drag-and-drop interface.
Build Your Following Creating Email List Using Mailchimp
Email marketing is considered by many as the most effective ways to boost website traffic. In fact, sending emails to your users can help you build your following. But you might lose the opportunity to promote your blog through emails if you haven't created an email list.
With Mailchimp for WP plugin, you can not only build your email list, but can also design them as per your needs.
Conclusion
Have you been searching for ways to grow your WP blog? Well, then using the tools above will help you achieve such an objective effectively and efficiently.
Author Bio: 
Sophia Phillips has been working as a professional in WordPress theme customization company and loves sharing information about leveraging multiple benefits of WordPress in the best possible manner. Currently, she has an impressive count of WP- related articles under her name.