Popular online drawing tools are used for designing art and photo layouts. These drawing tools are supporting lot of features which render the art prepared to an exquisite form and of a fairly high degree of quality. These are available on the internet and many of these are free. In this article, we would discuss the top 10 popular online drawing tools.
Gomockingbird
The online drawing tool easily prepares the developer or user to make wireframes and easy prototypes. It saves time and is essentially cost effective. The main advantage with having gomockingbird is that it creates lesser friction with similar activities of brainstorming and managing drawing tools. Other interesting features include the multiple page, grids and column making, resizing and many other add-ons.
Lovely Charts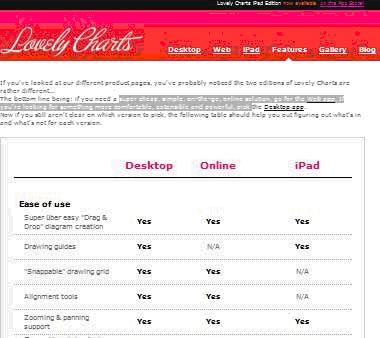 The application drawing tool prepares the drawings with diagrams, flowcharts, sitemaps, business processes, charts, wireframes and various other drawings. Various libraries, easy available tools and higher efficiency from drag and drop, offline, sharing and exporting of documents are other benefits. Lovely charts is a definite quality tool for the user-designer and developers.
Muro @ Deviantart.com
As a drawing tool this software application is easily one which can produce complete art forms in drawings and using digital drawing programs. It is a highly effective and useful tool for generating art in most of its entirety. This tool can clarify and utilizes various state of art devices and tools so as to deliver results which are exquisite and with special effects in its drawings.
Weavesilk
This web based software drawing tool has been created by the developer Yuri Vishnevsky. This program allows to draw amazingly popular and superbly exquisite backgrounds and images using silk on the screen. It allows for the silk to flow from right to left in  a dynamic vibrancy motion. It is a highly favorited and mainly drawing tool with specific feature.
All my magic
A simple graph tool and designing for background images and diagrams. It is simple and easy to use online. Also develops high quality photo imprints and supports quality graphics or layouts. Has a series of differently styled layouts and applications for drawing by users and designers.
Flash Paint
The flashpaint application is software for drawing and making graphics .It is an online paint tool, sends drawings to a gallery and also supports drawings to the disk. The flashpaint uses the flash program for developing the diagrams and images. It is an effective and useful tool for images but has lesser overall applications.
Draw.to
Draw.to is a tool for utilizing and making drawing and graphics. This tool uses various other applications like the embedding, works well with browser and also with twitter, facebook, email and iphone, ipad. All the drawings and graphics can be easily shared instantly on these applications as well.
Graphics Factory
The graphics factory tool can easily develop and draw graphics, art which is royalty free easily. It is a fast and affordable drawing tool. These images can be used for cross referencing, can be keyworded and has multiple image formats. Various applications and drawing forms can be created from the drawing tool.
Deltacad
It is a powerful CAD based drawing tool for making art and drawings. It includes various features like the simple user interface, accurate pictures and with precision. More than 50 operations can be completed from this application and many other add-ons are available as well.
Photoline
A simple tool for making drawings, graphics and art forms. It is featuring the database of images, raw converter, animation, flash, DTP, layout and text. Thus it is a versatile tool for drawing graphic photos and art. It works well with both mac and windows.
Conclusion
Drawing tools available online have interesting features. These online drawing tools can produce images, graphics and art with the help of numerous applications. In this article we have discussed the top 10 popular online drawing tools. Readers are invited to submit their comments and views.