With businesses adding several product lines and supply channels to their portfolios, sustaining order fulfillment at a steady rate is difficult feat to achieve. The need for migrating to an online order fulfillment process is mandatory for cross-channel commerce success.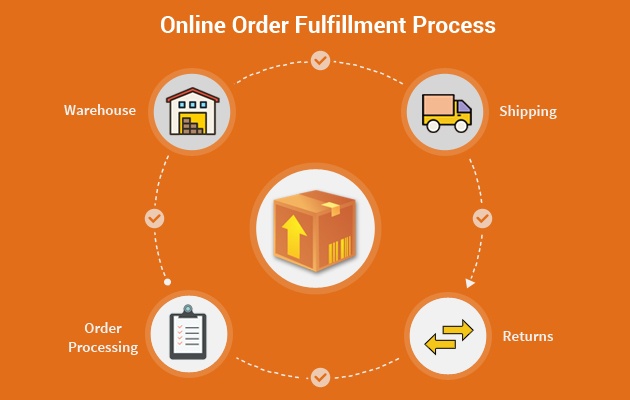 A recent study report by IBM titled Amplify2016 states that 42% of organizations find processing order volumes, quickly and accurately to be an imposing challenge. More than 39% of the respondents also claimed order fulfillment costs to be detrimental to achieving order fulfillment.
Vintage forms of order management processes using printed sales quotes, telephone calls or even emails tone down sales productivity substantially. The need of the hour is a robust online order management system that can make visible orders from all sources and channels (online and offline) in a single window for immediate processing.
A well-chosen online order management software achieves a tremendous feat –
'Take an order from anywhere and fulfill it from the most feasible and appropriate source within the shortest time span possible.'
Online Order Management System Nudges Fulfillment Efficiency
Puts Order Processing on Auto-Pilot
An online order management software eliminates the need for continuous human intervention. The entire order details needs to be given as input only once during the initial stages, after which, it is updated by default across all necessary fields, including the customer's order history. Your sales professional can devote more time converting leads to orders than replicating repetitive information from quotes to orders.
Negligible Error Instances
While human inputs are prone to errors and mistakes, there is hardly any room for error instances in following an online order fulfillment process steps. The order information is accurately entered through data validated fields or through auto-fill, thus avoiding all possibilities of errors. Even if errors occur, they would be caused by erroneous inputs of users.
Unifies Multi-Channel Order Management
A cloud order management solution can supply information from multiple locations, and multiple sales channels in a single window. The business is spared from the need to gather information from all sources separately and consolidate it for meaningful interpretation.
This unified approach to order management also helps downscale order fulfillment costs substantially. Admin costs, man-hours, tracing the appropriate channel for order fulfillment and related costs can be saved with the help of an online order fulfillment process.
Made-To-Fit Customer Orders/Invoices
Each customer is unique but, nevertheless, requires preferential treatment. From creating custom-made orders to dispatching invoices containing specific fields, an online order management process can be a perfect way to manage order fulfillment and invoice generation in a business model where time is of essence. Furthermore, it also aids post editing and updating of the invoice rendering great flexibility in customer servicing.
Parameters That Define an Investment-Worthy Online Order Management System
Investing in an online order management solution will amplify the efforts of your backend sales team and on field sales reps. As detailed above, it saves time; reduces errors; streamlines multichannel order management and improves customer service efficiency.
That told, here are some parameters to check for before investing in an online order management software.
Customer Management
Customized Order Forms
Transaction history
Shipping preferences (delivery locations, logistic arrangements, etc.)
Invoicing preferences (frequency, amount, tax particulars, etc.)
Round the clock support
Sales Personnel Management
Matching orders to sales rep
Sales rep wise transaction history
Access to customer information
Stock Integration
Real-time stock updates across channels
Warehouse stock levels
Stock available against booked orders
Stocks pending delivery fulfillment
An online order management system is not just an easy way to create your invoice it is a critical business component that can negate the challenges faced in order management in an effective manner. The right choice will fetch incremental results for all the efforts that your sales team puts in.