Google Nexus 4 is certainly a killer on the move. It comes with a slew of smashing features, ridiculously low pricing and a thumping performance that can only be rivaled by Galaxy Note 2. And not to forget the sleek, sexy hi- definition screen that can make you fall in deep love with it. So, without any shred of doubt,Google Nexus 4 is the best android device available on Planet earth right now.
Why you should loosen up your purse a bit. If you go by its look, of course I need to admit that it does not like earth shattering. It looks just like any other smartphone available all around us all the time. There is nothing in the design that could be termed as pushing the boundaries of innovation. The front and back of the phone is dominated by glossy glass
and holding them together is matte plastic giving the whole thing a nice facelift.
Nothing that special right? Yup. Ok just turn it on and you will probably jump out of its skin. Yes it is that bright and beautiful. Flaunting a fabulous 4.7 inches spacious screen, Nexus 4 looks stunningly bold,bright and beautiful. The quality of the video is just mind-blowing, audaciously awesome.
Powered by the super awesome a 1.5GHz quad-core processor, Nexus 4 is basically a beast when it comes to performance. No matter what you are at, it will never let you down. I have tried different apps and have loaded some of the heaviest websites but it never gets slowed down even for a second. Did I tell you that it comes preloaded with 2GB of RAM that adds to the awesomeness of its performance?Sorry if I forget. Take some time out and go through its specifications and it will make you gape in disbelief. Its specifications are far more impressive than those of Samsung Galaxy S3. And the best thing about this phone is that you will always be enjoying the latest version of Android since it is the product from the house of Google.
Running on the latest and the most sophisticated version of Android operating system – Android 4.2 Jelly Bean, it is the best thing that you can have in your pocket. Though there is not much difference between Android 4.2 Jelly Bean and its previous version as far as the interface is concerned, it has some cool features like GPS navigation, shortcut notification bar and other small tweaks.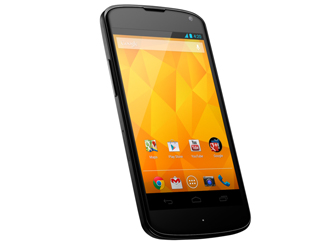 The most significant feature of Nexus 4 is the availability of new camera software. This upgrade lets you do what you always wanted to do. Yes, with Photo Sphere, you will be able to take 360-degree images and that too without reinvent the wheel. And there is a small editing application available that gives you option to add some effects in the pictures, add some filters and hosts of other things.
But there is a small chink in its armor and it is that Nexus 4 does not have any 4G. However, even in the USA, 4G is outrageously expensive and except some big metropolitan cities, 4G connectivity is not that impressive. So, this is not a big flaw on the part of Google.