Managing a property portfolio is time-consuming at best, but modern technology is designed to make the process a lot easier. If, like many landlords and property managers, you are permanently connected to a smartphone via an invisible umbilical cord, the following list of mobile apps is for you.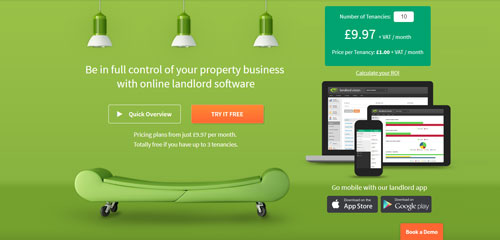 Landlord Vision is a full package landlord management software solution. It does everything, including managing your landlord accounts, producing reports, and providing an early warning system if a tenant fails to pay their rent on time. You can use the handy Landlord Vision app to connect to your main account. Landlord Vision is a subscription software, but you can try it for free before you buy.
The Landlord App helps you manage your property portfolio on the move. You can log property data, expenses, bills, tenant lease information, rents, and property listings from an iPhone or Android smartphone. The app is easy to use and therefore perfect for new landlords and property managers.
The Happy Inspector app is a useful property inspection app for residential and commercial facilities. Instead of relying on paper forms, download the Happy Inspector app and conduct property inspections using your smartphone. The app helps you keep track of your properties and produces reports to help you manage your business more effectively.
The Tenant Cloud app has been created for property managers and landlords to manage properties, leases, tenants, accounts and other key information. You can use the app to collect online payments and market your available properties. The app works on both iPhones and iPads.

ResMan is a popular cloud-based property management app. The app was designed by property managers, so it contains all the features you need to ensure a seamless experience. Use the app to manage payables, receivables, and maintenance issues. Take advantage of the free trial if you want to give it a shot before you pay for a subscription to ResMan property management software. "This is one of the apps I use on a daily basis" says Dennis from Karkanja Property Development. "The app is seamless to use and makes running Karjanka a breeze".
Property inspections are a key part of managing properties. If you don't make detailed property inspections, it is very hard to win a dispute when a tenant causes damage. The Z Inspector app is free to use for up to five properties, but for a small monthly fee, you have unlimited usage. Use the app to take HD photos and reference them in your inspections.  It's an app most property managers can't live without.

SnapInspect is a more sophisticated property inspection app for landlords and property managers. Use the app to generate photos, reports, and checklists. It should save you a lot of time each month if you have dozens of properties to inspect.
The RightMove app is perfect for landlords and property developers who want to keep up to date with current rental prices. Search your local area to see what other landlords are charging for similar properties or look for your next property acquisition on your iPhone.
New tenants are going to want to know more about the local area. Thanks to the AroundMe app, you can provide them with all the information they need to make an informed decision. The app tells you where the best restaurants are, helps you look for banks and cinemas, or searches for a convenient coffee shop. The AroundMe app is also helpful if you are considering investing in a particular neighbourhood.
Use the Landlordy app to help you run your property portfolio. The app makes it nice and easy to keep track of rental income and property expenditure. It generates financial reports and reminds you when things need doing. In short, the Landlordy app is like having an efficient PA by your side.
This is just a small selection of the many apps on the market. Try a few on for size and look for those that are easily customisable and come with excellent customer reviews.