Microsoft HoloLens is a standalone device that is not tethered to any device and is not connected through wires. It is the first consumer oriented product that focuses on bringing the reality to the mainstream. The Microsoft HoloLens is an entirely independent device where the computer along with the Holographic Processing Unit (HPU) handles and manages all the sophisticated processes of superimposing the 3D pictures while taking into consideration the immediate surroundings.
Microsoft HoloLens is an AR based face computer that comprises of around 18 sensors that stores massive data. In addition, it also includes a camera (120 by 120 degrees) which is quite impressive and powerful yet it consumes only a small part of power. It is designed with vent facing outwards which ensures that the device does not get overheated that can cause harm to the users.
Working of Microsoft HoloLens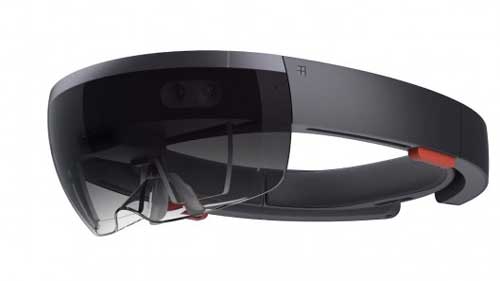 Microsoft HoloLens looks like a hybrid of ski goggles and a bike helmet. The headset is designed in such a way that will enable the user to keep a track of their movements, watch their gaze and will completely transform the way one sees different objects. This device keeps a track of where you go. In order to interact with the 3D images, the user can make use of hand gestures like midair tap by lowering and raising their finger. It is the first advanced holographic computing device all over the world which is empowered by Windows 10. This device brings life to high- definition holograms and integrates with your physical spaces, things and places. Holograms will change the way one look at things and will give you an unforgettable experience like never before.
Features of Microsoft HoloLens
Let us now explore some of the exciting features of Microsoft HoloLens:
It enables the user to shape and design holograms that allow the users to show their creativity. You have to make use of hand gestures in order to shape, create and size holograms.
It is an easy and effective way to visualize your work experiences and share your creativity and ideas. This device will make teaching and learning more interesting.
For navigating and exploring through the device the user needs to interact with the device through their eyes. The user has to make use of his voice for communicating with the applications.
The device will understand your vision, voice and movements thus, allowing you to interact with information and content in a natural way.
Final Words
The Microsoft HoloLens is an adjustable and lightweight device designed to fit any adult's head. It is easy and comfortable device to work with. The device comprises of inbuilt spatial sound that enables the user to hear holograms anywhere in the room with great precision. It includes transparent lens and advanced sensors that enables the user to explore their imagination and move freely in it. However, the Microsoft HoloLens are not officially out. Although, there are no estimates regarding its price but if Microsoft can deliver the working product at an affordable price then it will probably take computing to the next level.
Image Credit: gizmag.com