Blog monetization has become increasingly popular over the last 10 years. While previously people used to run a blog as a side profession, it has now become a full-fledged source of income for many bloggers round the globe. If you are a passionate blogger who is looking forward to uncovering the money-making capacity of your blog, then keep reading this article where we are going to talk about the easiest ways of monetizing your blog.

Ways to Monetize your Blog
Affiliate Marketing
You can use your blog as a platform for selling or promoting other people's merchandise. If you are capable of converting your audience into buyers, then it can be a great way of money-making with your blog. One of the best parts about affiliate marketing is that you don't need to take responsibility of production, distribution or customer care. Affiliate marketing works best for blogs which have a niche audience. For instance, if you are running a health blog, then you can choose to sell health supplements or other fitness products.
If you have established authority in your domain then affiliate marketing can work wonders for you. In affiliate marketing you'd get a portion of the profit every time someone makes a purchase by clicking through from your website.
Use Google AdSense
Any blogger who is new in the field starts generating profit by signing up for Google AdSense. This would allow you to place allotted advertisements on your blog. If your AdSense account is approved, you will be receiving continuous ad placements which would generate a bit of income every month.
You would get paid on the basis of the number of clicks and views received from the ads on your site. However, it needs to be mentioned in this context that the more traffic you have, the greater your possibility of income through AdSense. AdSense would allow you to choose where you want to place the ads and you get paid every time you accumulate a specific amount.
Sell products on your blog
You can always choose to market your products by featuring them with catchy descriptions and pictures. Your viewers can either buy your stuff directly from your blog or you can choose to redirect them to an ecommerce website which stocks your products. Making an e-book out of your content and selling them online can also be an excellent idea. If your blog always has substantial traffic then selling branded products can bring you a steady income.
Sell display ad space
This is one of the most common and reliable ways of making money from your blog. If your blog has a steady flow of traffic, then you can expect to get good money from the advertisers to put their advertisements on your website. If you can reach thousands of targeted customers, then the advertisers would me more than willing to pay you for running their ads on your blog.
However, in order to sell display ad space the first thing you need is well written content which is relevant to the products/services of the advertisers and a constant flow of reliable traffic. The ad-networks are going to take care of the former by scanning your keywords for placing relevant ads. Through ad networks were there since the beginning of the Internet, the immense popularity of relevant textual adverts prompted the advent of a vast number of ad networks made available for bloggers and web publishers. Some of the most popular ad networks for bloggers are- Google AdSense, Google doubleclick, Adknowledge, Crispads, Clicksor, Bidvertiser, Peakclick, Marchex, Textads, Tribal fusion and many more.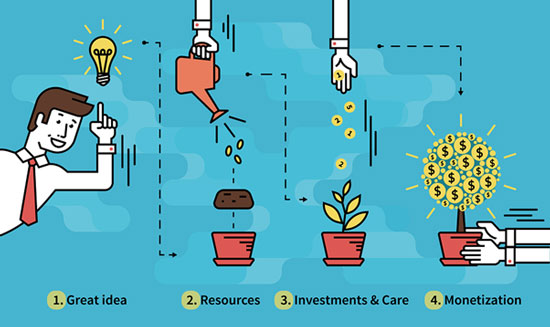 Suggestion Box:

If you still find difficult to write for your blog then I would recommend an site like contentmart.com can help you to find the writers.