To compete in fastest growing smartphone market such as China and India, against the expectations of iPhone lovers, Apple launched iPhone 5C a cheaper version. Many are of the view though intentions may be different but iPhone 5C is not cheap in price. Unlike metal (aluminum) shells for the iPhone, iPhone 5C has plastic which is easy to manufacture and less expensive. It is also speculated that the Brand image may get a dent by offering the plastic-cased iPhone. Now we shall put some light on the features of this gadget.
Color:
Apple has ensured that its users get the first look of the smartphone appealing and that's why has offered 5C in five different colors; White, Pink, Yellow, Blue and Green. To complement Apple offers Home Screen and Wallpaper Colors to engage and make the user's experience delightful.
Design:
The smooth, shiny polycarbonate shell around the back gives a look of polished coating. Although the device is heavier than iPhone 5 around an ounce but has a better feel than hard metal iPhone 5/5S. Its more similar to the old 3G or 3GS and has a similar finish.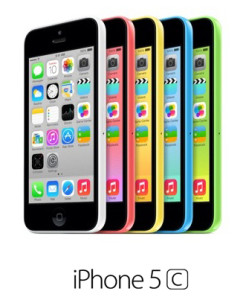 iPhone 5C has:
Height: 4.90 inches (12.44 mm)
Width: 2.33 inches (59.2 mm)
Depth: 0.35 inch (8.97 mm)
Weight: 4.65 ounces (132 grams)
The headphone's jack is at the bottom of handset. The audio sound comes out of a small four-hole  grilled at the bottom which is quite loud as of iPhone 5. iPhone 5C is more attractive for children since the colors are quite bright except the white one. iOS7 comes preinstalled with color matched wallpaper and themes for each phone. It comes in two capacities 16 GB and 32 GB. Moreover, it has A6 Chip.
Display& Speaker:
iPhone 5C has a retina display with 4-inch (diagnol) wide screen along with Multi-Touch display. iPhones are said to have the brightest and most color-accurate displays. Other features are;
Resolution: 1136-by-640 pixel resolution at 326 ppi
Contrast Ratio: 800:1 (typical)
Oleophobic Coating at front that make the smartphone Finger-print Resistant
Simultaneously compatible multiple languages and characters
There is a single speaker just at the right of the Lightning port just as of iPhone 5.

Camera:
Similar to iPhone 5, iPhone 5 C has same iSight rear-facing 8 MP Camera and has f/2.4 Aperture. The camera has Sapphire Crystal Lens Cover along with LED flash. iOS7 enhances the features since it offers digital zoom while recording video. The camera has
Back side illumination sensor
Five-element lens
Hybrid IR filter
Autofocus
Tap to focus
Face Detection
Panorama
Photo geotagging
For making video calls the front-facing Face Time HD Camera is also of great qualitywith 1.2 MP since light sensitivity is incorporated. There is also a backside illumination sensor. One can not only capture moments but also can save the live moments by making HD videos of 1080p with 30fps. Video Stabilization is also offered.
Connectivity
The iPhone 5C comes with dual-band 802.11a/b/g/n WiFi along with Bluetooth 4.0. In iOS7, Apple's AirDrop technology permits local file.
Call Quality
Most importantly, iPhone 5C has call quality equivalent to iPhone 5 and 5S. No doubt, there is a slight difference in antenna construction of iPhone 5C when compared to iPhone 5 or 5S but quality of network and audio both are on par.
Other than these features iPhone 5C has below mentioned external buttons:
On/ Off/ Sleep/ Wake
Volume up/ down
Ring/ silent
Home button just below the screen
The Connectors it has are:
3.5 mm stereo headphone minijack
Microphone
Built-in Speaker
Lightning Connector
It's a handy set to which Apple has associated its expectations with good features offered by claiming a cheap handset.The best iPhone mobile offers might be available in the online stores. iPhone 5c price in the Indian markets is around 39,500 Rs.