iPad Mini 3 Release Info and Specs
The very first thing to mention about the long awaited and much anticipated iPad Mini 3 is that it is very unlikely to be actually titled the 'iPad Mini 3.' Similar to how the iPad Mini 2 was not actually called the iPad Mini 2 but rather the 'iPad Mini with Retina Display. According to several rather reputable internet rumors the iPad Mini 3 will be called the iPad Mini Air. The given reason for such suspicions is that the iPad Mini 3 is expected to be thirty percent slimmer than it's already sparse and light weight predecessor. However, this prediction seems rather farfetched seeing as the iPad Mini 2 is already 5.25 millimeters thick; that is extremely thin! It seems unlikely that they would me making something markedly thinner, but it's all just so much conjecture at this point and does not bear much reflection. Better to just wait and see. And now with that out of the way, on to the ever important and eagerly awaited answer to the question, "When is the darned thing actually coming out?"
The answer to that question is as yet uncertain but it is very likely, given the company's (Apple) history that there will be a big event preceding it. Initially Apple was slated to reveal details pertaining to its iPad Mini 3 on the 9th of September alongside its latest iPhones. However, the tech giant chose, for whatever reason, to only showcase the iPhone 6, iPhone 6 Plus version and the Apple Watch. Ah, well, you can't always get what you want. However, an October release seems likely given that the iPad Mini 2 was released in 2013, there is a trending practice to these sort of things. Indeed, many internet sources are confirming just such suspicions.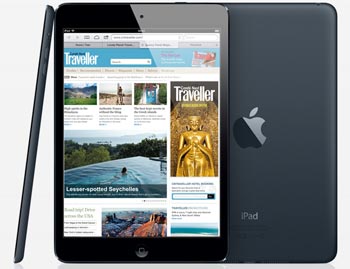 According to several online sources Apple is set to stage a special event for its new iPad Mini 3, as well as the iPad 6, come October the 21st. During this special release event they are, if the sources are to be believed, expected to also showcase the OS X Yosemite. Unfortunately, in regards to features and specifications pertaining to Apple's latest mini outing, there is not too much that is known. Though it does seem reasonable to assume that the iPad Mini 3 will have the same built in touch screen features as the iPhone 5 model.
It will likely, and this is rumored as well, that the iPad Mini 3 will also feature a much more potent A 8 processor which is a big step up from the previous model. Additional rumors about specs and other axuliary features abound on the internet and include a suggestion that the new iPad Mini 3 will come with a 8 MpiSight Camera in addition to the fancy new touch pad. The display dimensions, however, are unlikely to change from the staple 7.9 inch display that has been used in previous models of the iPad mini. This means that the display resolution will not be likely to change either and should remain at the comfy 2048 by 1536 we have all come to know (and love?). Though this may change as Apple knows full well that it needs to do all in its power that it can to differentiate the newest addition to the mini iPad lineup from its antecedents.