App development comes in three flavors: native, mobile, and hybrid.To put it simply, native apps are made for a specific platform using that platform's SDK. Mobile apps, on the other hand, are made on the server side with coding like Java or PHP translating HTML into a form which looks good on a mobile device.
Hybrid apps, however, are a different beast. They are like native apps in that they use web technologies like JavaScript and HTML, but they are also like mobile apps in that they use the devices browser engine to render the HTML.
These hybrid apps are a good choice if you want to create an app that functions on multiple platforms. This could be prudent since the market share of Smartphone's is heavily divided between Apple and Android, and there is also Windows Phone competing for a slice of the pie now.
If you want to build a hybrid app, there are a handful of development platforms out there which can make it easy. Here are three for you to consider.

Appary.io
This is the first cloud-based app development platform, and it comes with features that make app development possible even if you've never done it before. With its tools you can build apps with HTML5, Query Mobile, and Hybrid mobile for Android, iPhone, and Windows Phone. Being cloud based means there is nothing to download and install. Appary.io has a WYSIWYG style interface where the users can drag and drop UI elements and link them together. You can also use and test and REST API with the platform.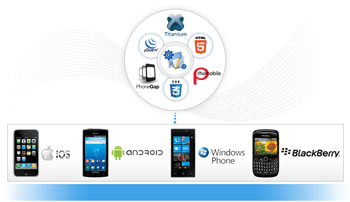 The App Builder
This one features an extensive widget library and a drag and drop style interface which make it a breeze for anyone to create an app. You can switch between platforms and create multiple apps, no problem. If you get stuck there are many online tutorials to help you out. Due in October 2013 the App Builder will release its paid premium plan. With it you'll be able to build an app once with The App Builder, and publish it across multiple platforms.
Codiqua
When you get a new idea for an app, the first thing to do is envision what it will look like. This might involve whipping out a pencil and cocktail napkin for a quick sketch, but with Codiqua you can quickly do a mockup. This prototyping app development tool can be very powerful as it allows the user to easily access tools and add widgets and functions to their creations. This includes things like fields, list views, placeholder maps, and buttons. Components also come various parameters that can be modified.
The one caveat with hybrid apps is that you may not have all the functionality of a native app, or the same look. These above listed tools can be quite useful to an app developer, and make it much easier than ever before.