Maintaining blogs require a commitment of effort, attention and, mostly, time. Without the help of various tools, it can be frustrating spending too much of your day updating and administering the site, especially if you own more than one. Wordpress (WP) is one of the largest blogging platforms on the web. In fact, there are roughly 62 million WordPress sites, based on statistics released by WordPress. It also revealed that WP users "produce about 39.3 million new posts and 41.4 million new comments each month."
If you're one of those who rigorously updates and monitors their blog(s), you will find the following tools make the whole process much easier and more pain free.
ManageWP:
This tool is essential for bloggers who maintain more than one site. ManageWP allows you to maintain, monitor and update multiple WordPress sites in one dashboard. Its key benefits include updating several plugins and sites in one-click, high security to keep your sites protected, robust management tools, and automated monitoring and backup features. You can also access ManageWP through your iPhone or Android smartphone. Using ManageWP is free for five blogs for a 14-day trial period. If you choose to continue the service, you will have to choose among their three packages, including Standard for individual bloggers, Professional for small businesses, and Business for large companies.
Quandary's Content Idea Generator:
Every writer or blogger experiences writer's block every so often when writing. To avoid getting stuck on to write and to post on your blog, you can use Quandary's Content Idea Generator. It's a powerful tool that asks you 18 questions about your products, and then quickly generates a long list of great topic ideas for your blog that will surely attract more readers. This application is free and very easy to use. The 18 questions only take 10 to 15 minutes to answer, and in one click,  you'll receive a list of possible topics. So the next time you feel that you've exhausted all ideas think again and use this helpful tool.
Disqus: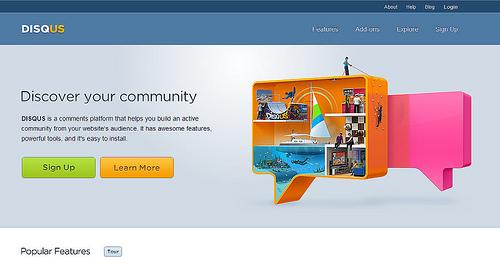 You have perhaps understood by now the importance of building readers engagement with your blog. Reading (positive or at least earnest) comments on the blog and replying to them is one of the simple pleasures of owning a website. However, if you are maintaining multiple blogs,  you can come to dread checking all those comments. With the help of Disqus, you can easily build an active community around your blog. The best feature of Disqus is its real-time functionality, so you can be sure that the all comments are screened properly. It works with WordPress, Tumblr, HTML & JS, Blogger and Drupal.
Never forget that blogging should be easy and fun. So, whether or not you're only maintaining a single blog or you're a professional blogger monitoring hundreds of sites, the tools presented above are the top applications you should have to make sure you're not missing an opportunity to build followers and gain advertising revenue.