Partition of hard drive is something that most users, who doesn't have that much of a technical knowledge, assume unimportant. It is not due to the reason that they are not aware of the fact that the partition of hard drive will help them save their crucial data in the long run. Instead, they run away from the process of partitioning because they think of it as a complicated process, which only the tech geeks can achieve.
They know that in case they fail to do the partition successfully, they will have to lose out on the data that is already stored in the system. To avoid such situation, backup surely is the best thing to do. But, if you use proper software, then you will never come across a situation where you will be losing out on information due to partition. Moreover, there are several software available, which will help you in accomplishing the task of partitioning your hard drive.
EaseUS Partition Master: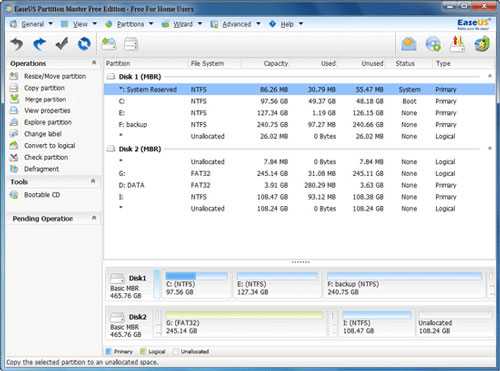 EaseUS partition master is one such name that will help you in creating multiple partition. This software comes for free and only if you are satisfied with the services, you can go for the paid services as well. You just need to download partition magic  in advance and make use of it to make partitions on your hard drive. Partition of hard drive also helps you in organizing the files because you can create separate partitions for different things.
Handling Windows 7
In order to administrate better the Windows 7, you can make use of partition master. With the help of this software, you will be able to merge the partition, move the partition, copy disk or partition or the dynamic volume and even the dynamic volume can be resized as well. If you think that you don't need so many partitions anymore, then you can easily delete off all the partitions and in case you want to check the partitions or hide the partitions you will be able to do that too.
 In order to get going with the process of partition you will have to launch the program after downloading it for free. Then follow the instructions and you will soon have the partitions ready for your usage. If you are using the premium version of the software, then you will also be able to create a bootable disk that you can use to manage the Windows 7.
There is a tutorial available for the partition magic Windows 7 . Though it is a fact that the Windows 7 comes with the Disk Management system or tool, but till date no such improvement has been witnessed in it. So, if you are thinking of using it only, then you will have to deal with several limitations in the procedure and it might also happen that you end up doing wrong procedure and failing in the task of partitioning. This will only lead to data loss and nothing else. When you run out of space, then it is better that you use the partition software only.