The DJI Phantom has apps that allow you to fly your craft, giving you the best experience possible. DJI GO and DJI Vision are constantly updated, which means your DJI Phantom, 3dr Solo, or DJI Inspire will fly smoothly and with ease. Here we're offering some basic information about the DJI GO app so that you can get an idea of what you receive with this great application:
The DJI Go app is free to download with your DJI Phantom 3. This app will give you more control of your craft and provide you with amazing new features that make things more simplified, and provide a more intuitive user interface.
The DJI Phantom GO app provides you with a quick video editor for making videos and share them instantly. The built-in video editor allows you to create complete, full videos with music and text. With just a few taps, you can have a professional-quality movie that is ready to share.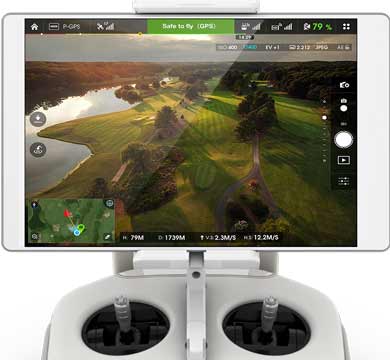 Want the world to see you flying? The YouTube live streaming capability means you can share the view with your friends or anyone in the world live, right on YouTube. People will be able to take part in the experience of flying with your craft in real time.
The DJI GO app allows you to practice your flying. This means you have an opportunity to perfect your skills before actually going anywhere. Plus, the new simulator gives you a more lifelike experience by letting you use the remote controller in a safe environment.
Track your DJI Phantom progress with the flight log. You can review time, destinations, and duration to help you with further flights. Replay will allow you to play back full flights as well. All of this will help you become a better pilot.
Contact DroneFly.com today to learn more about what the DJI Go app can do for you.