Calls, messages, file transfers – All the three makes the majority of actions made by any smartphone owner in the world on any random day. And it's not a wonder that there is a mania to build chat app like Whatsapp and win its market share.
To the question of how to create a chat app like Whatsapp or just a one that's universally accepted, the answer lies within knowing two things in depth.
i) Technical checklist ii) End-user preferences to consider
In the forthcoming portion, we are going to talk about both technicalities and end-user preferences that help to develop a chat app that works great on iOS, Android or any given platform.
Technicalities that are required to build a chat app like whatsapp
What has made WhatsApp the bible for building chat apps, be it for simple purposes or with enterprise-level sophistications?
Undoubtedly it is the architecture of the WhatsApp and the technicalities that pillars it to render an uncompromising experience across all devices. Well, here goes our effort in revealing the technical strengths of WhatsApp. And once you are done reading it, you can improvise them to make things much better. So here it goes…
Server
The server and programming language pairing do the trick for WhatsApp. Ejabberd server does the duty of processing multiple messages between several nodes while the codes written with Erlang programming language takes care of the instructions. High sustainability and capacity to accommodate a huge communication network are the reasons for leveraging these technologies.
Storage and protocol used
YAWS takes care of multimedia file storage. YAWS is coherent with Erlang and this web server is meant for apps with high data loads. From XMPP protocol, WhatsApp engineers have moved on lately to a new protocol for server performance optimization.
Database
FreeBSD happens to be WhatsApp's operating system while Mnesia and MySQL are the databases.
Well, this checklist will sufficiently answer the question of how to develop WhatsApp like application that's technically sound. Let's move on to our next topic which happens to be the often overlooked area.
What do end users love to have in a chat app?
How to build a simple chat app that's loved by end users? Here are certain end user preferences to look for. Focus on this is what separates Whats app from other chat apps built on iOs and Android. When you are reading our material, you never have to worry about it. We have made it a point to make things clear about user expectations.
Easy to Get Started
Users will be eager to experience your app, so the minimal the initial formalities are, the sooner they'll get into the experiencing phase. To give a flying start for users, you can build a native chat app with single step registration. And to get started, contact information import from a phone book and social networks can instantly provide users with a flurry of friends to begin a conversation with.
Profile Customization
Cool quotient of profile is what users look for. Multiple customization options can extend their options to personalize the profile the way they want and offering provisions to link their social profiles via chat app would be a great advancement.
Messaging Options
When it comes to messaging options, the more number of options are, chances are more likely for user to get addicted to your instant messaging app. A few messaging options you can consider are i) One-To-One ii) One-to-many iii) Scheduled messaging iv) message broadcast to many groups etc.,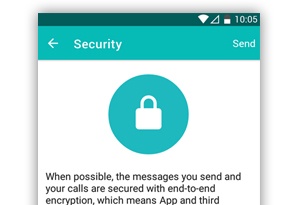 Security & Privacy
Ensuring safety of data or information shared and privacy are two factors which makes users feel pleased with a chat app. If you want to build such a build secure chat app the features to consider are HMAC, end-to-end encryption, self destructive messages, password protection for file transfer and premium encryption for chats.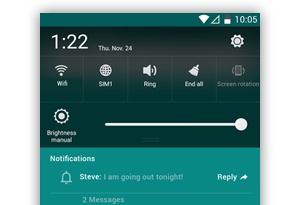 Notifications
Notifications keep users glued to chat apps with repeated reminders and alerts of chats they receive. On the other hand, repeated notifications can annoy users to the extent of getting rid of the app itself. So, notification moderating convenience is what all customers expect. Enable/ Disable option for group chat notifications can help in getting rid of ever-buzzing chats.
File Transfer
File transfers are the second best actions performed by every chat app user. Extending the capability to send more types of files like Images, videos, emojis are a part of the usual offering. Multiple file type support (.xls, .pdf, .gif), adding self destructive option can help you build real-time chat app for enterprises and teams.
Location Sharing
For users, location sharing makes things easy when they are in a unfamiliar place, want to find a friend nearby and under any scenarios where they need a map assistance. Google Maps location sharing with BLE and geo-location based technologies like iBeacon and Eddystone can be used to build chat apps that elevate user experience.
Other features that can make a difference to your chat app build
Video chats – The innovation that's not far behind
In-app purchase – Monetization idea for your chat app can be a good revenue generator. In-app purchases can be set for people to buy more personalized experience.
Well, that sums up the list of end-user preferences that can be considered before you attempt to build a Whatsapp clone or an instant messaging app on iOS, Android or any other platform.
How to Build a Real-time Chat App?
Your dream chat app can be built choosing a readymade solution that can accommodate the above-discussed technicalities, end-user requirements and a one that's flexible enough to bolt in any specific business requirement.
Apphitect IM Solution can be your perfect ally then. Apphitect IM is a ready-to-go solution that has the framework built to build chat apps that fully functional and technically sound. Have look at what makes Apphitect IM a great choice to begin your chat app development.
Adding to this, Apphitect IM is 100% customizable that makes it friendly towards any level of tweaks, downsizings and third-party integrations.