Gone are those days when small businesses used to only depend on its office world for getting all the tasks done. With the advancement in mobile and Internet technology, even small business owners have started to use apps that can take their business to new heights. As apps are getting more popularity and are becoming robust, more and more entrepreneurs have started using them so that their business processes and tasks are executed efficiently. By using some really valuable apps for business, it really becomes easier and quicker to perform daily business chores because most steps are automated for you on the electronic platform. There are situations when it becomes worth to get help from the e-market. So, let's look at the most useful apps that can ensure putting your daily business life in order.
Payfirma:
This app makes it smoother for you to receive payments from any location and at anytime from your mobile. You can accept payments, approve transactions, and offer returns. If you wish to know where maximum sales of your products are taking place, Payfirma is just an ideal one to choose. It facilitates you to tag each deal on a map and observe sales trends to know how fine the sales are at a particular point in time such as day or week. You can go green with this app because you save lots of paper by e-mailing the acknowledgements to the patrons. After you receive the payment, the client receives an e-receipt through e-mail. In terms of security, you can rely on this app because your data is held in a virtual cloud account that is accessible via a secure medium. While the app is free, you are required to pay processing fees such as monthly processing fee and transaction fee.
You Might Also Like: New Revolution Of Gadgets In 2013
Google Drive:
This is a cloud storage system that is ideal to store vital business files that you wish to access on the go. You can even create new Office files on the drive apart from uploading the existing ones to it. The most admiring feature of this app is that a single document can be handled by more than one person at a time. This means that you can simply allocate different sections of the document to different people for meeting an emergency deadline without any delay. You can even track every change that is made to the document and save it in that version. This means that can get a new version of a document with every time the document is opened for making changes. You can consider this app also for storing the backup of your files although it is advisable to store backups at different other locations. Luckily, Google has offered 5GB space for free. This is enough for small businesses , it seems! But if you wish to have more space, you can obtain up to 25 GB by paying $2.50 per month. The app is available for Android, iOS, Mac, PC, and Chrome.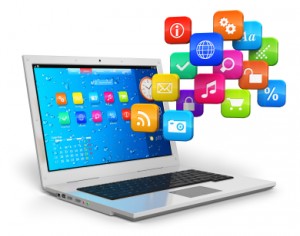 Skype:
This is one the ideal communication apps that has more than 25 million users across the world. It is an affordable app that enables you to communicate for free with your customers having Skype. However, you can make a landline or mobile call by paying a small fee. You need not be an expert to use this app because it is very simple to explore and navigate its interface irrespective of your technical know-how. This app is available for tablets, personal computers, and mobile phone. In order to run this app. You just need an Internet connection on the device. Above all, the app is free to use. However, if you wish to call non-Skype people, you will have to subscribe one of pricing plans.