The app marketplace is a crowded, dynamic, challenging and ever-evolving space. Creating a android mobile application development is only half the battle. The challenges involved in marketing this application are a different kettle of fish altogether. There are plenty of exciting new apps for the Android operating system and plenty more being introduced almost everyday.At last count, there were more than 300,000 applications in the Android marketplace alone. Now,there is room for plenty more to come in but a smart application owner or marketer will strive to create something unique and market it in a unique manner too!
Factors to consider while creating apps
Any application that is introduced in the marketplace will have to take on free and paid apps as its competition. Agreed, some of them are not worth the investment of time and/or money but they will still offer competition to any app developer. Price point is still a huge factor in pricing one's own application. Most app developers pitch their apps at an extremely low starting or entry price and then rejig according to customer response. Furthermore, it is not just the Android marketplace that is competition. One must also consider apps being developed for other operating systems which may be lower priced or even more interesting.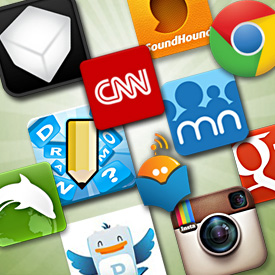 Figuring out a space, a niche space in the app marketplace is important. For instance,different studies and surveys have pointed to the fact that gaming and entertainment are top draws as far as Android apps go. This is followed by books and travel related apps. Education related apps are also a huge draw with the Android users. This is a rather crowded space
and much like a supermarket space where a hundred different products are clamoring for attention, an app developer must get his product to stand out. For this goal, the start point has to be a thorough analysis of the app market and the niche apps that exist within this market.
Different approaches
There are different approaches for android app marketing, app developers can enter the market with all fanfare or make a quiet splash and hang in there for the long haul. For instance, almost any apps created and marketed in the games and entertainment space is likely to be launched with mega impact. Some of the biggest names in the apps space will throw their weight, financial and otherwise, behind apps for games. In fact people will buy apps or download apps when they know that it comes from a well- established developer or developer company!
The other approach is something known as 'base hit apps' which will fall back on some solid,focused and steady marketing strategies. There may not be big gains right at the beginning but it will help an app stick around for a long time and rake in the moolah. You can also look at giving your app for free but you have to do a whole lot of homework first. Focusing on aspects like the writing quality and fixing bugs in the application will help it stand apart in the Android space.