It is one of the trending game in the gaming world. And it is all about how you Survival and crafting in the game. Here are few tips for playing the game.
1. Objectives
The primary objective at the initiation of the game is to do the basic need as you would do to survive in nature. Punch some wood, start collecting food (berries) and even can hunt for fishes in the shallow water which do not attack you, there are many cases where you would face a huge shark any other aquatic carnivores which would make you as the bait, better be careful while searching food as well as hunting fish.
It is always tantalising to smash out to show your valor, utilizing the strength and instruments in a channelized manner would always help you to survive. Thought of gathering basic needs quickly but efficiently is the goal. This would allow you to engram (meaning leveling up), which would allow you to experience craft and therefore can build tools which would ease out the physical stress to a good extent. The tools would help you to gather more resources what you require, a hatchet would provide you more wood and stone.
2. Crafting & Reincarnation
During hunting and utilizing the instruments for other purposes the crafted instruments might be damaged, do not re-craft any of the crafting, instead you can do additions and repair the craft to make it better and strong. It would save the resource utilization multiple times for the same thing rather than using for other things to level up. It also allows you to save time, rather than spending a whole lot of time on making a new one.
Attacking could be in different ranges from nature as well as from the opponent players for the resources like food stored and hidden at your base. At this point of time, the battle could be a disaster, and you might die in the fight. Do not be afraid to die in the game you would always be reincarnated and your inventory would be saved and could be used again after you reincarnation period.
Sometimes you might be not willing to leave the character in the game but after certain levelling changing the character would help you rediscover the world in a different pattern and feel the progression you made. The reincarnation process place can be chosen by you on the map in a safe place, or even you can choose the same place for reincarnation at the first you were playing.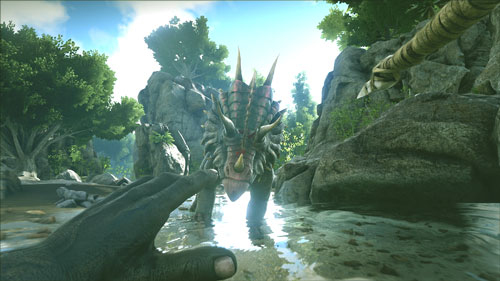 3. Build & Online Friendly
Building a base would always be a safe point for you to play the game. It, of course, provides you with a safer place to sleep and other purposes. But always carry the need required for you to survive the process of exploring the map. It's better not to be attached to the new base place because while exploring the map you might move into dangerous places and get greater rewards also there are possibilities that you could die out there. The base also serves as a safe place for reincarnation.You can Ark admin commands to rebuild your base at a different location where you are re-spawned.
Uninterrupted online playing would encourage you to have company for the level ups and would also help you to make the game more interesting, and always it's given and take the system with the company, you help them they help you. Playing offline is also not harm, but you would only miss out the help to make the game more interesting and adventurous.
Sleeping during online game playing in open surroundings would lead you to harm, or you would be presenting yourself as bait, as a dinosaur and your opponent players would be looking for this opportunity to scavenge you.
4. Protection
Protecting yourself in the game is the ultimate strategy to perform well and explore a lot, you can do this by taming lot of dinosaur which would also act as a soldier in the battle of exploration. The dinosaur that you are taming also requires food for developing skills, experience and level ups.
So make sure that you provide enough food as well as a store for future purpose and hunt for food simultaneously to have constant stock. Suitable food makes the dinosaur pleased and also have narco-berries to keep them in sleep. Plan before you make a move and always have a battle strategy to win and proceed further.
Some of the indigenous species take 3 hours to be tamed, so there is no other methods or shortcuts to reduce the time of taming. During the date of starving, you can find more species to tame and make an army to defend yourself.
Blueprints are the best thing to be robbed, this would help you to build anything, and you would not require the engram for the development and correlating design.
Finding this would assist you to craft devices that are not available at your level, but crafting and utilizing would help you to improve the game at a faster rate. It also saves your engram points by creating the devices way before the level.
5. Inventory
It is essential to maintain your list, carrying things appropriately is necessary and carrying more or too much it would stop you from moving around, and if you drop out some of them to lose weight they would be losing the resource and fall into trouble. A robbery of the materials from the opponent would be a good step, but in case if you are attacked by a dinosaur then save yourself with the content and come back later for the revenge and not to push yourself in the battle mode and make your death, instead return to the base with remembering the path.