We carry our iPhones and Droids around with us all the time, probably somewhere very close to our wallets.  It only makes sense that we would use our phones to our fiscal advantage.  Here are 10 apps that are sure to save you money on food, gas, communication, and more. 
Locavore.  Locally grown food is often cheaper than items shipped across oceans.  By using Locavore to bring up local, in-season food at farmers' markets and farms, you'll save money and support local small businesses.  They need your money—and will give it back to your own community—a lot more than will any chain like Target.
Card Star.  Is your wallet or key ring bursting with peeling loyalty cards?  Scrap 'em, because Card Star lets you organize all of your loyalty cards into a single app.  Simply show your phone to the cashier.  Local store deals will also show up on the app if it's running.
GasBuddy.  If you're driving around town and find yourself low on gas, have your co-pilot pull up GasBuddy.  By tracking your current GPS location, this app brings up the prices of local gas stations.  You might find a spot a few miles down the road to save you a few dollars you would not have found if not for GasBuddy.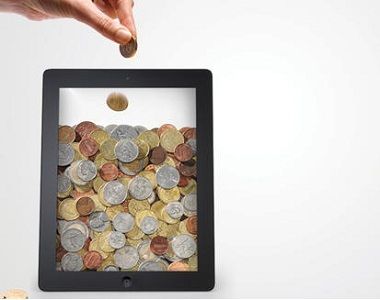 Skype.  International calls can whip up a pretty penny for vacationers, students studying abroad, and international businesspeople.  You no longer need your laptop to get on Skype; there's an app for that.  Make free video and voice calls to anyone on a computer or phone with the same app.  The newest update, unfortunately, tries to upload your iOS contacts onto Skype—something not everyone wants to do.  Tread with caution.
Square.  Do you sell items at craft or art fairs?  Are you an avid Craigslist seller?  Which one of your friends owes you money but claims to never have cash?  Square can make the headache go away.  By signing up on their website, you'll receive a Square card reader that attaches to the headphone jack of your device—for free!  Square charges you 2.75% of every swipe, but for individuals  looking at numerous transactions, it's a worthwhile sacrifice.
Happy Hours.  There are few places more detrimental to a bank account than bars.  We start out with one, then someone buys us a shot, and suddenly we're feeling generous enough to buy everyone a round.  Happy Hours pinpoints your GPS location and finds local establishments with happy hours and food and drink specials.
Mint.  Having trouble budgeting?  Mint can help.  It safely and securely connects to your bank accounts so it not only tracks your spending and income, you can shift it all into a customized budget.  You can even enter cash transactions manually.  Its streamlined design makes it very user-friendly, so you can see at the end of every month where you saved money and where you went over your budget.  The website is great, but the app is even better.  Because it's on your phone, its updates provide a constant reminder of your commitment to staying within your means.
Yelp.  Don't waste money in overpriced or underwhelming establishments.  Yelp's many reviews lets you know which restaurants and businesses are worth your time and money—and which aren't.
Groupon and Living Social.  If you forgot to print out your Groupon or Living Social deal, no problem.  Both programs let you pull up the deal on your phone instead.  Save trees and money.
Coupon Sherpa.  This app will fetch hundreds of in-store coupons for your perusal on your own smart device.  It isn't just for groceries, either.  It will find deals on clothing, restaurants, books, and more.